3 mouth-watering protein smoothie recipes
3 Mouth-Watering Protein Smoothie Recipes You Will Absolutely Love!
We all remember this epic scene from (an equally epic) Rocky movie…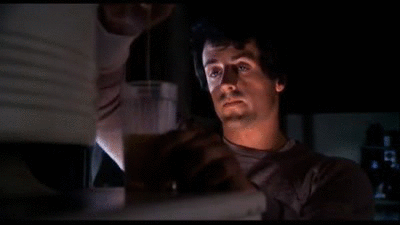 Balboa, tapping on his cooking genius, juices his own protein shake of raw egg. Inspiring… and gross. But inspiring nonetheless.
Now, neither do you have a boxing match approaching, nor do you have the chef-ing-prowess that of Mr. Balboa (sense sarcasm). Does this mean you don't intake protein?
Well, certainly not!
A daily dose of adequate protein consumption is the backbone of a healthy lifestyle. From losing weight to gaining mass and controlling BP to healing wound—protein is that one miraculous nutrient that the world agrees about in uniformity: THEY ARE IMPORTANT.
6 Science-Approved Benefits of Protein
Here are few science-approved benefits of protein:
(i) Trigger weight loss- High-protein diet boost metabolic activity, which when mixed with TB16 (more on this later), can trigger higher weight loss in a small span.
(ii) Build more muscle- Protein repair injured tissues, fix muscle aches and maintain those tissues in a very healthy form. They add to stronger bones.
(iii) Reduce cravings- Consuming more calories than wasting is the biggest reason for being fat. Protein-rich foods keep your cravings at bay, ensuring you don't eat more.
(iv) Boost immune system- Antibodies in our bodies that fight foreign elements are specific proteins. So, more protein intake means an improved immune system.
(v) Healthy heart- Protein keeps blood pressure in check, maintain the right sugar level, lower LDL level and, at large, make sure the heart is functioning correctly.
(vi) Other benefits- It includes improved mood, healthier hair and skin, balanced hormones in the body, and a high level of energy.
With all these benefits, do you still need reasons to fix your diet and increase daily protein consumption?
Keeping Up with Kardashi… err, Healthy Foods
Now, there are many protein-rich foods out there that you can munch every day. Like eggs (raw or cooked), beans, low-fat dairy products, tuna, oats, chicken breast, and broccoli. However, after a period, eating them in the ordinary recipe can become monotone and unappetizing.
Why do you think all those New Year's Resolution of "eating healthy" fall flat even before February hits?
Being smart in your food intake is important. And this is just as much about the food's taste as its nutrient contents. It becomes easier to keep up with healthy food on a daily basis if it's also delicious.
Why Smoothies are the go-to
Thankfully, there are many killer recipes out there for scrumptious protein-rich breakfasts, lunch, and dinner.
Sadly though, almost all of them take quite some time to prepare. So, unless you're a cook yourself or have plenty of time in hand, you definitely want to go for time-effective, protein-draped alternative. And this is where smoothies come in. A favorite of people who are super-busy, these shakes are extremely easy and quick to prepare. And they provide just as much nutrient as any food.
So, say goodbye to all the protein-only food that you eat every day in the garb of "healthy diet". Don't compromise on your taste. After all, YOLO. Here are 3 mouth-watering high-protein smoothie recipes to maintain an all-day healthy eating (or drinking) habit:
1. Chocolate Peanut Butter Banana Shake
While banana bring a variety of vitamins and an ice cream-like base, peanut butter contains protein and healthy fats in its salty zest. And, of course, chocolate. Not that we need any reason to include it, but cocoa packs an ample of nutritional benefits like improving blood flow and balancing mood.
When you combine these three, you get a heavenly taste, giving your taste buds a kick in savoring mode.
Preparing chocolate peanut butter banana shake is quite easy and just takes about 5-7 mins. Although you can have it anytime you want, the smoothie is ideal to be consumed after-lunch to keep you full and lit-up.
Ingredients:
1 frozen banana
2 tablespoon peanut butter
Pinch of salt (not if using salted peanut butter)
1 whole dates
1 tablespoon cocoa powder
1 cup of cream milk
Some almonds
Few small ice cubes
As optional, for added taste, you can even include chocolate chip and chocolate sauce.
How to prepare?
STEP ONE: Add frozen banana, peanut butter, dates, cocoa powder, ice cubes and some milk in the blender.
STEP TWO: Blend them together.
STEP THREE: For suitable taste, add more of ingredients. For more thickness, add a banana. For thin smoothie, include more milk.
STEP FOUR: Serve in a glass.
STEP FIVE: Add some ice cubes, chocolate sauce, almond, and raw banana according to your preference.
STEP SIX: Drink away. (Best to drink within 2 hours of preparation.)
It would take just 5 minutes to prepare chocolate peanut butter banana shake. High in protein, along with other nutrients, the smoothie assures to leave you wanting for some more.
2. Vanilla Pumpkin Pie Shake
Let's not even get to the benefits of pumpkins. Fitness enthusiasts swear by it for weight reduction. Mix it with vanilla flavored protein powder, and you're holding a super-healthy glass, promising to keep you in sync with the desired fitness level.
Vanilla pumpkin pie shake is very easy to prepare, taking just 3-5 minutes. It's a perfect smoothie to start your day with. Also, you can gulp a small glass before your workout session.
Ingredients:
2 tablespoon vanilla-flavored protein powder
½ cup of pureed pumpkin
¾ cup of uncooked oats
1 cup of milk or yogurt
Small amount of walnuts
Small amount of flax seed
Few ice cubes
Pinch of cinnamon extract
As optional, for added taste, you can even include some pomegranate and almonds.
How to prepare?
STEP ONE: Add protein powder, pureed pumpkin, oats, yogurt/milk, walnut, flaxseed, ice cubes and cinnamon in a blender.
STEP TWO: Blend them together.
STEP THREE: For suitable taste, add more of ingredients. For more thickness, add yogurt and pureed pumpkin. For thin smoothie, include more milk.
STEP FOUR: Serve in a glass.
STEP FIVE: Add some ice cubes, pomegranate, and almonds according to your preference.
STEP SIX: Gulp it down. (Best to be consumed within 2 hours from the time of preparation.)
Preparing vanilla pumpkin pie shake is super easy and quick. Whether you're feeling hungry, want your day to start fresh or just heading to the gym, prepare it in a jiffy and let its magic work your appetite and energy level.
3. Berry Protein Shake
When it comes to high protein, there are very few items that can beat berries. Raspberries, in particular, pack 1.5 gram of protein per cup. And when blended with protein powder, they are the powerhouse of rich nutrients that can keep you up fresh and energetic throughout the day.
Berry Protein Shake is the easiest to make among three. And they are particularly perfect for those who are in rush. More fluid-y with excellent taste, sip the smoothie right in the morning and/or evening, and let its rich nutrients do the trick.
Ingredients:
2 tablespoon of protein powder and TB16 (more on this below)
6 raspberries
5 strawberries
10 blueberries
2 cups of skimmed milk
Few ice cubes
As optional, for added taste, you can include some macadamia nuts, pomegranate, almonds and a small quantity of yogurt.
How to prepare?
STEP ONE: Add protein powder, raspberries, strawberries, blueberries, skimmed milk, and ice cubes in a blender.
STEP TWO: Blend them together.
STEP THREE: For suitable taste, add more of ingredients. For more thickness, add yogurt and more raspberries. You can even use creamed milk in place of skimmed one for more thickness.
STEP FOUR: Serve in a glass.
STEP FIVE: Add some ice cubes, pomegranate, macadamia nuts, and yogurts according to your preference.
STEP SIX: Drink. (Best to sip away within 2 hours after preparation.)
Making berry protein smoothie is easy and takes about 2-3 minutes. It's a perfect go-to if you've just had food but are still craving for more. It's refreshing, delicious and has the ability to keep you full for hours.
These are 3 mouth-watering protein-rich smoothie recipes that are super easy and quick to prepare. Which one is an ideal fit for you depends on your personal taste. If you're fine with all, drink them on alternate days to keep your appetite on its toes.
What Fitness Goal You're Trying to Achieve?
Noted already, protein has plenty of benefits. And its regular intake ensures you're living an all-round healthier life. However, if you're trying to achieve a certain fitness goal, it's crucial that you add some more changes in your daily diet, invest in the right supplements and balance your nutrient intake effectively.
After all, healthy it may be, for it to work right and deliver a good result, protein needs other components in the right quantity.
How Fitness Trainers Recommend Burning Fat?
A go-to tip for all the beginners who wish to burn fat is to eat a high-protein diet. Aside from promoting the 'fullness hormone' and raising metabolic rate, it has also been observed in many studies that people who intake more protein every day have less abdominal fat.
While the above-mentioned smoothies, and few other recipes, would take care of your daily protein, fitness trainers also recommend spending more time in cardio and purchasing TB16 thermal burn supplement to cut back on more fat in a quick span. Much to what these professionals believe, there's no standalone solution to reduce weight. One needs to mix things up in the right quantity to get a maximized result. And rightly so!
Generally put, protein sets the groundwork for more efforts. It fuels metabolism, trigger many hormones and keep people from eating more. Intake of TB16 thermal burner further heightens the metabolic activity during and after the workout. And then cardio does what it does best—melt fat.
NG Natura TB16 Thermal Burn is a much-loved supplement, used to maximize fat reduction, enhance energy level and balance mood. Ideal for morning consumption, just mix one serving on 10 ounces of water and let it do the magic for you through the day. TB16 packs rich nutrient value, coming in tropical fusion and twisted strawberry flavor.
So, if you're looking to reduce your weight and achieve that glamourous Hollywood-esque physique quickly, do what the fitness trainers recommend. Increase your protein intake, invest in TB16, and cardio, cardio, and cardio!!